Description
The Summit Hammer is a large stone hammer held together by thick iron supports.
Location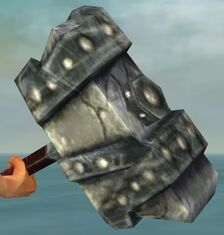 Dye
Dye only affects the grip. It is dyed red by default.
Notes
Other items with this appearance:
Stone Summit Dwarves are often seen wielding this type of hammer.
Community content is available under
CC-BY-NC-SA
unless otherwise noted.