Is this actually supposed to be crevasse? --- Barek (talk • contribs) - 18:34, 25 August 2007 (CDT)
Technically, this is a creature, no? --File:Roland icon.pngRoland of Gilead (talk) 12:31, 26 August 2007 (CDT)
Crevasse, not chasm
See screenshot to the right.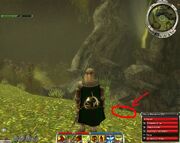 --MRA 10:43, 26 September 2007 (CDT)
Crevasse-b-gone?
Ok, I went north, I beat things up, I got the armor, and came home. How do I make the crevasse go away? (there are usualy skale nearby who drop some bog-fins I want...) 71.208.188.207 03:05, 26 November 2007 (UTC)
Community content is available under
CC-BY-NC-SA
unless otherwise noted.