Wrong picture
That isn't the Harbinger of Nightfall... It's a Margonite boss. I would correct it but I haven't got the right screenshot.
Defeating The Harbringer of Nightfall
I use skills such as Spoil Victor, Empathy and Backfire to counter all of its attacks. Also remember that you need to use the purified water repeatedly on it, unlike the other harbringers. —The preceding unsigned comment was added by 207.81.252.103 (contribs) .
Poison and other degen effects
If a harbringer is not bieng affected by a vail, is it still possible to degenerate his health (ie: Poison, bleeding, Conjure skills)
Nundu Bay
I just completed this mission for the Protector title, and I am sure he was an axe warrior with Disrupting Chop and Executioner's Strike. And I'm also certain I'm not confusing them with the Harbingers of Twilight, before someone can ask :P. --Shadowcrest 19:43, 11 October 2007 (UTC)
Lion's Comfort?
I noticed the Harbinger in the Jennur's Horde mission using Lion's Comfort. His health would go up, then immediately go back down to where it was.Firelink 18:59, 24 March 2008 (UTC)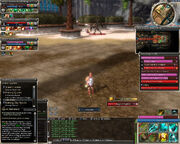 Community content is available under
CC-BY-NC-SA
unless otherwise noted.