Discussion
I love it! combined with Bloodsong and Painful bond and you have a awesome firepower :D
If this really steals life(unlike the vamp horrors who just do damage and heal you for the amount dealt, not true life stealing) it can be used in the Rt/P maddened spirit farming farming build, further more it will cut through stuff like prot spirit, shielding hands and shield of absorption.
Anyhow, I thought it worth noting that this spirit does 2 things: 1 - It steals life from the target, healing itself for that amount. 2 - You are also healed for the same amount. Perhaps a subtle distinction, but if you like abusing spirit's health, this and bloodsong both make good choices. 71.208.165.124 13:36, 17 June 2007 (CDT)
Am I the only one who thinks this should heal your whole party or something....I mean am I supposed to waste 3 seconds casting a spirit that will do about 10 dps to one target and give minor healing to just myself? Come on, it's pve only skill and personally I would rather bring plenty of other skills before this one. The only skill I see this replacing is bloodsong, which I wouldn't use anyway. IMO a single-targeting spirit isn't usually worth it anyway, so considering that this spirit does little more than that, it will never find a place on my bar (on any char) in its current state. 76.102.172.202 05:44, 29 October 2007 (UTC)
Low level data
Does anybody have a genuine Canthan Rit who hasn't yet traveled to Elona? Could you please check the green numbers for lower Sunspear ranks when you get there? Turns out it is impossible for an Elonian to take Rit as secondary before "ascending". --

Ishmaeel .ping( ) ; .peek( ); 20:13, 17 June 2007 (CDT)
Icon
To be honest, the icon is a little bit erotic to me...coz the icon looks like...ummmmmmmmmmm --Hokit 02:42, 21 June 2007 (CDT)
| | |
| --- | --- |
| | This user thinks that the icon of Vampirism is very erotic~!!!! |
Darksyde Never Again
14:02, 18 July 2007 (CDT)

Everyone repeat after me! "SPLURT!" --BeeD 21:41, 31 July 2007 (CDT)
I don't get it, how is this skill icon erotic? Blood is blood. If anything, yes, Power Leech is definatly erotic, but not this one.
It's a c*m sh*t, deal with it.

reanor 15:24, 23 October 2007 (UTC)
You should see the templates my guildies come up with. Like this one:
:P --Macros 03:19, 10 December 2007 (UTC)
I made this box some time ago. --

Feardrake. 03:20, 10 December 2007 (UTC)
srry --

Feardrake. 03:22, 10 December 2007 (UTC)



Nilator 18:58, 19 April 2008 (UTC)
Superb skill
Whenever I have a spare skill slot and at least /Rt, I find myself slapping this thing on as the first choice. 5 energy for something that, over a long time, steals enemy health and gives it to you? You can NEVER go wrong with that, no matter your primary profession. --File:Roland icon.pngRoland of Gilead (talk) 08:44, 1 July 2007 (CDT)
Attack Speed
does this have bloodsong's superior attack speed or standard 2 sec, or something else entirely? Phool 19:29, 4 July 2007 (CDT)
Healing
I need to clear something up. In the skill description it says that "Attacks by the spirit steal up to 10...18 Health, and you are healed for 10...18 Health." Does this mean that the spirit is healed for 18 health and you are also healed for 18 health, or are you the only one that gains health? --

One Three Three Seven 18:44, 15 July 2007 (CDT)
This spirit does not trigger Painful Bond, I do not know if it has never triggered or just since the bug introduced in Game updates/20070717. --Heurist 23:23, 2 August 2007 (CDT)
im pretty sure this is intended if u notice with bloodsong the spirit does x damage and then also does 0 damage for the purposes of painful bond this spirit just does x damage this damage is life stealing wich despite coming from a spirit doesnt count as a spirit attack.
Life Stealing
Spirit steals life for itself and heals own maker same amount?
Doesn't cause aggro? Breaks aggro?
I was fighting Djinn in The Hidden City of Ahdashim during the quest Gift of the Djinn. When I reached the "Vault" place, I laid a Spirit of Vampirism on one of the bridges, about halfway across. It was just within attacking range of a nearby Ruby Djinn...I shot the Djinn, once, and ran away, planning to pull. But, nothing happened! My Spirit started to attack the Ruby Djinn, as I would expect. However, the Ruby Djinn and its little group of buddies did absolutely nothing. My Vampirism spirit ended up stealing almost half the Ruby Djinn's Health by the time they were finally smart enough to wander out of range. However, I think that was just following the normal patrol route and not fleeing the Spirit.
Anyone else noticed this - Vampirism attacks not provoking monsters or making them un-pullable? Will post screenshot soon...

(T/C) 23:06, 21 August 2007 (CDT)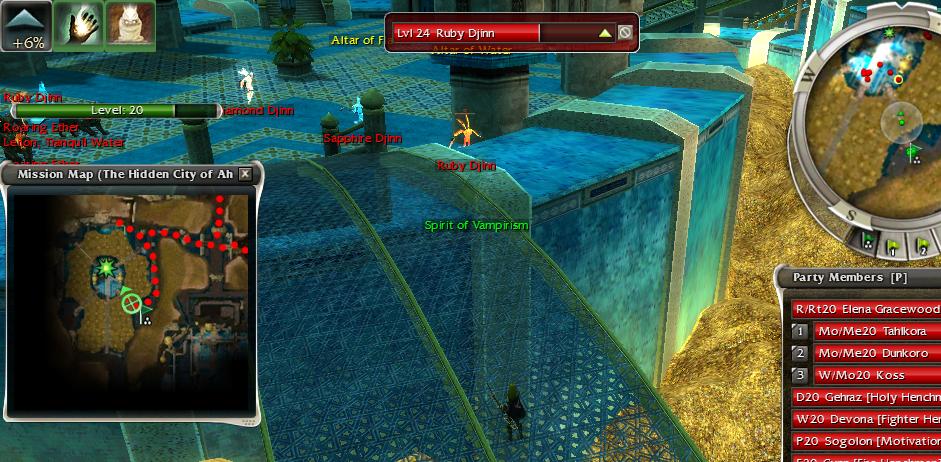 Sorry that the Spirit is nearly invisible on that spot, couldn't be helped. If it caused aggro it would be dead by now, and the other Diamond/Sapphire djinn would be running towards me to kill it.

(T/C) 23:24, 21 August 2007 (CDT)
Same thing happens with the new Asura summon spells. Zulu Inuoe 22:02, 11 September 2007 (CDT)
WTH?
why does this skill use a casting animation insted of a ritual amination? has anyone else besides me noticed this? Redphobia
Template change
The change I made to the template was to indicate that you are always healed for 10...18 health, even if the spirit steals less. I'm not going to revert reverts, but someone else can. =P Dragnmn talk 13:23, 22 December 2007 (UTC)
Acquisition
Can someone confirm the acquisition, I do not see them offered by the hero skill trainers listed in the article. Or is this limited to primary profession? Amy Awien 15:55, 30 December 2007 (UTC)
Targetting Bug
Removed bug tag from page as this was fixed in 4/10/08 update. Narhiril 23:28, 10 April 2008 (UTC)
3/4? o.o
Too fast? :P --77.160.14.220 06:44, 19 June 2009 (UTC) Toilet
lol
--
68.202.164.151
16:10, September 18, 2009 (UTC)
bug?
I've been farming with an SoS build in the underworld, whenever vampirism and possibly bloodsong die, they reappear at the location I last put them. Anyone else notice this? 67.247.56.166 03:39, September 13, 2010 (UTC)
Moved from top
This Skill Can't be use in PvP what can replace it? —The preceding unsigned comment was added by 69.168.144.151 (contribs) .
Community content is available under
CC-BY-NC-SA
unless otherwise noted.