Talmehinu

Classification
Dialogue
"Pssst. Hero. Over here. I've got an offer for you. A contact of mine in Cantha has offered me a pretty piece of gold to smuggle him a load of Sentient Spore. But, the city guard put a ban on harvesting them, so you can only have a few at a time. I need hands to collect these for me...a lot of them. If you can bring me the share that the law allows...5 Sentient Spores...I'll pay you handsomely for your contribution:"
Collector Items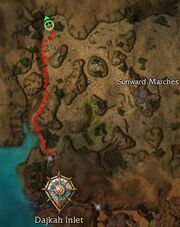 Talmehinu
Location: Sunward Marches (near the northwestern corner)
Collecting: 5 Sentient Spores
Community content is available under
CC-BY-NC-SA
unless otherwise noted.