Tekliss
Classification
General
Tekliss is one of Captain Jerazh best soldiers.
Quests Given
Quests Involved In
Location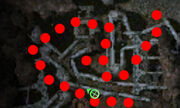 Location
Dialogue
"You broke into the foundry through the front chambers? Amazing! You must be quite powerful to accomplish such a feat. Perhaps you could help me rescue some of my Forgotten brethren who are still locked away within this bastion"
Community content is available under
CC-BY-NC-SA
unless otherwise noted.