The Blasphemy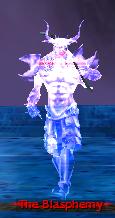 Classification
Description
One of Abaddon's demonic servants. Like The Drought and The Hunger, The Blasphemy is in the service of Varesh Ossa to bring about the Nightfall. It attempts, along with a host of Margonite soldiers, to overrun and defile the floating Sebelkeh Basilica. The Blasphemy has an extremely low Health total for a monster of its level.
Location
Skills used
Notes
Community content is available under
CC-BY-NC-SA
unless otherwise noted.