The Northlands

Basic Info
Neighbor(s)
Lakeside County
Map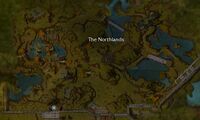 (click to enlarge)
Description
The northern lands of Ascalon are no longer safe, as the Charr are always raiding and invading. The Great Northern Wall prevents them from penetrating the major cities of Ascalon south of the wall.
To reach this area, a party of two is required: one person to open the locked gate (which blocks the portal) and the other to pass through. It is impossible for one person to open the gate and then run through the portal before the doors close again.
Exits
Explorable areas
NPCs
Bestiary
Monsters
Bosses
Notes
Community content is available under
CC-BY-NC-SA
unless otherwise noted.