Transformed Mender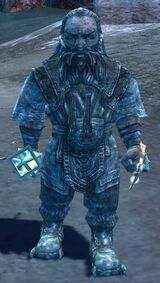 Classification
General
Transformed Menders are Dwarven Menders transformed by the Great Dwarf's blessing.
Location
Dialogue
During Epilogue:
"So you managed to survive, eh? I'll drink a pint of ale to you!"
Skills used
In Battldepths:
Notes
Although appearing to be made of stone Transformed Menders count as fleshy creatures.
Community content is available under
CC-BY-NC-SA
unless otherwise noted.