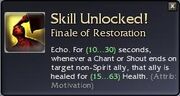 Overview
In Guild Wars, "to unlock something" generally means to make it available for your PvP characters. Unlocked skills can also be equipped by Heroes, and unlocked non-Elite skills will be available via Skill Tomes or from all skill trainers of their campaign for your PvE characters. Currently, you can unlock skills, runes, weapon upgrades, and Heroes. You can unlock via either PvE or PvP.
Unlock via PvE
Notes:
Unlock via PvP
You can trade your Faction points at a Priest of Balthazar to unlock skills, runes,weapon upgrades, and heroes.
Skills cost 1000 faction points to unlock a regular skill and 3000 faction points to unlock an elite skill.
Runes are unlocked in this order: minor runes cost 1000 faction points, then major runes cost 1500 faction points, and finally, superior runes cost 2000 faction points.
Weapon upgrades that come with varying numbers (such as Sundering or +1 to skill) follow a certain sequence for unlocking. If the upgrade has never been unlocked on your account, the unlocked upgrade will have the minimum possible value. If the upgrade has been unlocked at least once in PvE or PvP, the second unlock will have the highest numbers possible. Weapon upgrades cost 1000 faction points to upgrade at each stage.
Heroes can be unlocked for 3000 to 6000 Faction points.
Unlock via other methods
It is currently possible to unlock all of the skills in a particular campaign by purchasing the Skill Unlock Packs of that campaign via the Guild Wars In-Game Store.
Community content is available under
CC-BY-NC-SA
unless otherwise noted.