Azaya
| | |
| --- | --- |
| | This user primarily plays as a Mesmer. |
| | |
| --- | --- |
| | This user is not a primary Monk but you'd never know it from how frequently she plays one. |
| | |
| --- | --- |
| | This user wishes she could move to the Underworld. |
| | |
| --- | --- |
| PvE | This user has nightmares about PvP. No, really. |
| | |
| --- | --- |
| | This user loves to sow frustration amongst meleers without condition removal. |
      |
_|¯
This user needs more stairs!
| | |
| --- | --- |
| AI | This user has a maximum of one other human in her party. |
Projects
Mostly I test builds, my favorite being ritualist builds. PvE is what I can speak for the best, but I do minimal PvP testing as well. I've moved over to PvX along with the builds. Same user name. Aside from that, I do cleanup, such as fixing spelling and grammar errors.
As for original builds, I don't have many posted, since generally I'm a bit afraid to post here.
Also working on:
Category:Needs SoC confirmation. (Please, people, for the love of God, when you sync with the RawDump take it out of the SoC category!)
Boss pages in general. Missing pictures, drop info, etc.
I did the female Paragon Vabbian headgear pictures. I wish I'd done a better job. If I ever figure out what I did wrong I'll fix them.
Current Characters
If for some reason you want to, feel free to get in contact with me in-game, just mention Guildwiki or something so I don't sit there thinking "Er, do I know this person?" and then think I'm going crazy because I can't remember.
---
Primary Account (American Server)
---
Secondary Account (European Server)
Primarily played by my daughter now. Characters named 'Hello Kitty [Profession]' are not me.
---
Retired
Khan Orion - My former main and only male. I got tired of him after the release of Factions and the beautiful faces available to Canthan female rangers. Currently retired and used as storage space; replaced by Ghost Leaf. Holds greens and quest items such as Imperial Commendations. Has max armor but no pants because they broke when I salvaged out a Major Vigor.
Current Guild
Currently the leader of Lion And Dragon [LanD], a small PvE-based Luxon guild. Wiki guildies include Aquinas, Ford, and Lalina.
Forgive a small advertisement, but we're always looking for more :) Or just say hi at our website, kindly made by Aquinas. LanD Forums
Where to Find Me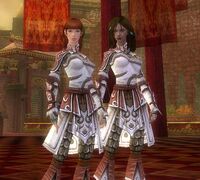 Chances are I'm in one of these places:
Smite mesmer in 3 or 5-man Foundry. Rarely do DoA anymore, mostly run a 5-man in Cathedral.
Credits
Oh jeez. I've 'borrowed' ideas from so many user pages, and never thought to keep track. So chances are, if something on my page is similar to yours, that's where I got it, and I apologize for my horrific memory.
For My Convenience
Community content is available under
CC-BY-NC-SA
unless otherwise noted.