This build is not favored by the GuildWiki community.

The general consensus among users of GuildWiki is that this build is not viable. It was found that this build is entirely too 1337 for the community and should be used in only situations that have an extreme need for this unbeatable build.
This build relies on over-zealous melee attackers to target you, the monk, first. By using a series of offensive skills this build is capable of eliminating an opponent who attempts to attack you. Additionally, the use of Frenzy allows maximum return from Reversal of Damage.
Attributes and Skills
Equipment
Using a hybrid of insignias is recommended. Stalwart on the chest and leggings, with survivors on head, arms, and feet.
A Barbed Sword of Fortitude, with +5 energy inscription.
A Shield with +30 core and a personal preference of inscription.
Usage
As soon as the match starts, use Shield Bash to show off to all your teammates that you are indeed a monk. Depending if you want your team to continue to believe this is up to you. If you don't mind them knowing your using this amazing Frenzy Smite build, start spamming Frenzy during the casual stand off between the two teams before fighting. If you would like to keep this a secret, just stand somewhat in the front as you want melee to attack you. As an opponent approaches you to attack, instantly use Shield Bash, Deadly Riposte, and Frenzy in this order. Assuming your opponent used an attack skill and is knocked down, throw up Reversal of Damage, and allow them to hit you. Using Frenzy in synergy with Reversal of Damage will likely return a near to, if not, max amount back to the foe. Continue to use Reversal of Damage as recharge allows. Directly after the first use of Reversal of Damage, use Bane Signet, Holy Strike, Signet of Judgment, and Stonesoul Strike to kill the opponent. Generally you can catch opponents off guard enough to kill them with this spike if no healer is present. If you cannot kill the opponent that attacks you, begin to use your skills on any healer that may be present to frustrate them with your armor ignoring damage. If you do kill an opponent, however, you must re-apply Frenzy and type out in local chat, "FRENZY SMITE!" and throw in a few random emotes like, "/roar", "/sorry" in quick succession. This will add to the embarassment of the death and promote your status as a Frenzy Smiter.
Counters
What counters? You can't counter frenzy without a Healing Signet being used in synergy. With the lack of this skill there currently is not a build capable of eliminating this build.
Credits
I'd like to give credit to the lack of many hours of sleep which led me to experiment with the Frenzy Smite. Originally I looked at Reversal of Damage and thought I'd just make a build to screw around with. Frenzy was added to maximize the return given by Reversal of Damage, and after several test builds this was born.
Wtf?

If I have been successful, you should be entertained somewhat by the idea of a Frenzy Smite, however, this should not be taken likely. Sadly, in the short amount of time I have tested this build in the Random Arenas, I have already earned 2 gladiator points. The first one was only to ten, the second one went to 13 without a monk, unfortunately I can only prove we went to 12. This does show that although this build is more directed towards screwing around and etertainment, it should still be taken seriously. Yes, Frenzy needs to be taken seriously - even on smiters. >.<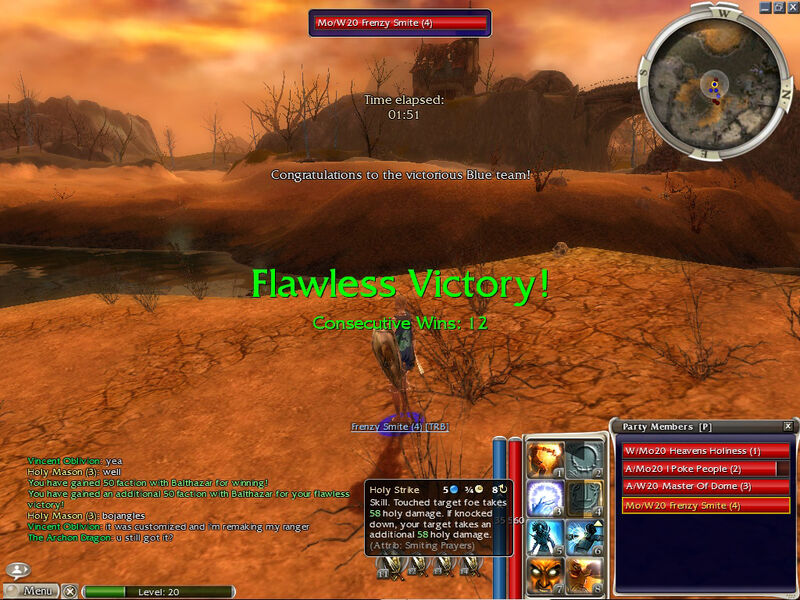 | Streak of 10
| Picture Displayed above. Streak of 13 without (real) monk, only 12th consec shown.
Community content is available under
CC-BY-NC-SA
unless otherwise noted.