My other user page is a duplicate of
Gem
's.
Wherefore art thou, Mercurio?
I am currently not very active on GuildWiki, because my main focus is the brand new Gamewikis project: HammerWiki. If you wish to get a hold of me, it is probably more efficient to use my talk page there.
Who?
I'm Bishop. I play GW, mostly solo, because my time doesn't allow me to play on a fixed schedule.
My scores on the Which Guild Wars Profession Are You? - Factions Edition quiz from Gem's fun page:
Ranger 63%
Elementalist 63%
Assassin 56%
Monk 56%
Mesmer 50%
Warrior 50%
Ritualist 44%
Necromancer 38%
Interestingly, my favorite character is my... necromancer (well, tied with my warrior but that doesn't help much). I think that test is BS. :)
Why?
I like Guild Wars. In fact, I like it a lot more now than I did the first time I played it, 6 months or so ago. Not sure why, but I think it has to do with re-discovering how intricate and versatile the 8-skill system actually is. That, and I love the fact that I don't have to worry about how much or how little I play because it costs me $0 per month anyway.
Where?
I live in Denmark, but I play on the US servers. Mostly because the few times I do group, it's usually with my buddy from Canada. And I don't much appreciate the whole multi-lingual general chat that's common on EU servers (I only speak a little German and no French).
What?
I have 3 acended lvl 20 characters:
Desiree Steele / finished Prophecies as my first and only toon so far. Build not formalized.
Darque Steele / currently playing my new N/Rt Accursed Flesh and loving it.
Two Factions characters:
and one pvp character that I delete and remake on whim.
Builds
Having recovered from the depression caused by the nerf to my previous warrior build, I'm back in the saddle. Now kicking arse in 12v12 using this nasty little build (it's such a nice format because you don't really need a res sig so you can go nuts with 8 skill mayhem):
Chopchop
I've also replaced Axe Twist with Smite Hex on occation, but whenever I equip that, I never get hexed. Hmm. Maybe that's a good thing. The lack of Wild Blow is because, as opposed to 4v4, in 12v12 I don't have to care about rangers. At all. Let the hexers and the degeners deal with them while I cut down the squishies.
Hanky Panky Ranger
Just because I can, I improved (in my opinion, obviously, YMMV) on the touch ranger fotm and came up with this:
The Dragonslasher
Okay, so I've always been an axe user, but I figure it is time to experiment a little with sword just to broaden my horizons. Taking my que from the guru forums as often before and twisting it to my own taste, this is the basis I will try to work something out with:
Still in testing. If it turns out to work well, I'll upgrade it to a bonafide build article.
The Grenthfarmer
For my own reference more than anyone's benefit right now, farming using Grenth's Balance:
The Minimaster
My current MM build, mostly for 12v12, but replace Verata's Aura with res sig and it's usable in most PvE:
Variations include replacing Death Nova with Extinguish.
Kiss Kiss Kite Kite
Extreme RA warrior lockdown mesmer. Denies movement, energy, adrenaline, enchantments (mending noobs abound in RA) and use of healing signet. Expect rage quitting. Much less useful against casters.
TripTrap
A very basic trapping build for reference. Requires an ally with Energizing Wind.
Wilderness 16, expertise rest+1, staff +5 energy and hp.
Flashfire
An effective fast-casting Me/E nuke build for 12v12.
12 Fire/10+1+1 FC/rest+1 Insp.
Quick reference
The link I use the most on the wiki: Skills_by_capture_location#elite
Current project
Hitting Random page, fixing obvious flaws (like categories at the top) and unstubbing articles that need it. Specifically, monster-articles with all fields filled in and boss-articles that include maps get unstubbed.
Wishlist
So you're an incredibly rich goldfarmer and you love my work on the wiki? Great! I want one of these (no, I will not ever, ever be able to afford buying it, so don't send me tells with offers) Actually, I can afford it now, I just don't want to pay 100k. When the price drops to around 40k I'll prolly get one, as I still love the skin..
Favorite Guild Wars moment
Henching Glint: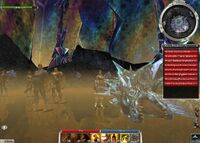 Soloing quite a bit, I've henched stuff like Unwaking Waters (master time), Hell's Precipice (w bonus) and Thunderhead Keep (w bonus) too, but Glint was the biggest gamble. Did it on the first try with the shown build, too.
Most annoying part of Guild Wars
The Alliance Battle map selection system. It's easier to list the things that are not wrong with it than start listing its flaws: nothing. Everything about it is silly. Either you play the same map over and over and over again, or the maps suddenly shift far to one side and then noone on the other side wants to play. Whoever thought it would be clever to have the maps be increasingly unfair must have been suffering from massive brain damage.
Oh, but the best part is when the map has shifted but there's nothing telling you or your team, as you stand around waiting to join a battle that will never start because it's now going on somewhere else. I can't believe they still haven't done something about that.
Community content is available under
CC-BY-NC-SA
unless otherwise noted.