Striker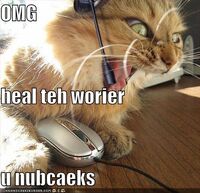 Classification
General
Justice Striker, commonly abbreviated as J Striker or just Striker, is a powerful boss found most commonly on American districts during European prime/randomtime (GMT+2/3). Along with his most frequent spawn locations, he has a small chance of spawning as a pop-up anywhere in Guild Wars and GuildWiki. He is also believed to be a Finn. In combat, when his health drops below approximately 20% health, he disappears and drops one Jadeite Shard and one another item for each party member (he does not drop items in PvP-areas, Battle Isles, and few other newbie areas, like Echovald Forest, Pre-Searing and in official GW Wiki as Mediggo).
Furthermore, Justice Striker...
Is immune to knockdowns, dazed and blindness.
Has approximately 1300 health (believed to be 1337, but this is unconfirmed).
Is able to swap weapons instantly between spear and scythe.
Has natural resistance, deals double damage and has halved skill activation time.
His skills cannot be disabled, although edit conflicts have been observed to hinder him.
Skills used
Location
Items dropped
Quotes
Upon pop-up spawn:
"Get out of my way!"
"The end is near."
Battle quotes:
"You're gonna lose it all."
"Live by honor, fight for freedom."
"Fury of the storm!"
"Be true to yourself... and resign."
"Don't stop 'til they've lost."
"Surrender your soul, surrender your pride!"
"This is ultimate power."
"This will be your final scream."
"In the name of metal!"
"Today, you shall reach your end."
"I know what they say; ignore the red dots and go straight for the ectos... but that is not true!"
When less than 20% health:
"Time's up."
"Why..."
"It is not yet time to slumber."
"We still have much work to do."
Trivia
"It is not yet time to slumber." and "We still have much work to do." are together a reference to the secret ending of Final Fantasy VII: Dirge of Cerberus.
"As soon as those little red dots notice you, you are going to die." may be a reference to this video by Maui.
Sometimes a low-orbiting ion cannon fires and destroys everything within the range of this boss. Be wary.
Userboxes
Characters
Note: Completed: A stands for Ascended character, P for Prophecies, F for Factions, N for Nightfall and E for Eye of the North.

Justice Striker (details)

Memoria Fuinglin (details)

Orichalcium Striker (details)

Mist Knack (details)

Rosey Striker (details)

Minerva Deniquem (details)

Aether Banold (details)

Aluxes Winterspring (details)

Lfive Riesig

?
Nightfall Campaign
Completed: -
Prestige Armor: None yet
Unique Skills
Community content is available under
CC-BY-NC-SA
unless otherwise noted.