Userbox
| | |
| --- | --- |
| | This user is a member of the Kurzick alliance. |

| | |
| --- | --- |
| | This user is a member of the Luxon alliance. |
| | |
| --- | --- |
| PvE | This user is primarily a PvE player. |
| | |
| --- | --- |
| | This user plays for the territory of North America. |

| | |
| --- | --- |
| Life | THIS USER GOT HIS LIFE BACK. |
The Chag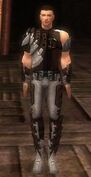 </div>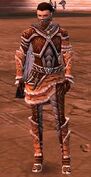 </div>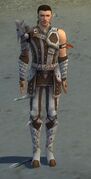 </div>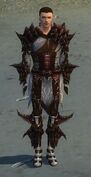 </div>
</div>
Overview
Prophecies Character
Level 20
Completed all Prophecies missions
Completed all Nightfall missions
Still in progression for Factions.
10,000,000 Experience
Secondary proffessions: Monk, Warrior, Mesmer
Armor
Armor Stats
Equipment
Marksmanship
Swordsmanship

Kanaxai's Edge

Slashing damage: 15-22 (req. 9 Swordsmanship)
Damage +15% (While health is above 15%)
Armor Penetration 20% (Chance: 20%)
Health +30

Random Thing
Earning A Life Back
The Chag unwillingly gave away his account to a fellow Guild Wars player. Also, I accidentally accessed this website and saw all the junk I did, 3 years ago, give or take. God damn! I couldn't spell for my life! "Seperate?!" "SepErate"? It's "separate". God, I was such a douche! I just wanna slap myself and say: YOU'RE A FUCKING DOUCHE, YOU DOUCHE! And now I want a cigarette but can't have one because I don't have a fucking lighter!!! Ahh, what's the point in this useless machinery if its life extends to the afternoon! I pay a good £1 for every lighter I've ever purchased in my life; and for what? The enlightening of five cigarettes?! THAT'S RIGHT! FIVE CIGARETTES!
With the conclusion of this rambling sentence, I would like to quote the words of a great man... or should I say woman, as she was called "the Road Warrior: "Now, we go in! We kill! NO MORE TALK, we kill! Soon my dog of war, but we have to do it my way. You jus- You just wait!" I salute you all.
Community content is available under
CC-BY-NC-SA
unless otherwise noted.