Varr the Unlovable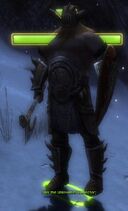 Classification
Map(s)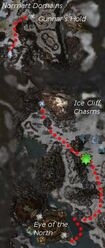 Location in Ice Cliff Chasms
General
Location
Skills used
Dialogue
"She's a fine one. A real firestorm in a bottle. But she won't look at me twice since the day I was ambushed by a throng of plants. Blindsided me and left me for dead, they did. I must prove my strength to her, but truth be known I am no fighter. You'll help me earn her affection...and she'll be none the wiser! Bring me 5 Mountain Roots as a sign of retaliation, and I'll trade you:"
Collector Items
Varr the Unlovable
Location: Ice Cliff Chasms, middle of the map, near Ornoloff
Collecting: 5 Mountain Roots
Notes
Community content is available under
CC-BY-NC-SA
unless otherwise noted.