Volsung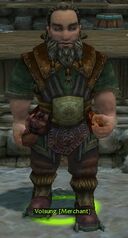 Classification
This article is about Volsung the merchant; not to be confused with Volsung Stoneketil, a collector.
General
Volsung is a Merchant.
Like all merchants, he buys and sells goods at a fixed price.
Location
Goods Offered
Volsung offers the standard assortment of goods for merchants in the Southern Shiverpeaks region:
Community content is available under
CC-BY-NC-SA
unless otherwise noted.