Wailing Lord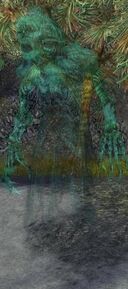 Classification
General
The Wailing Lord is the master of the Forest of the Wailing Lord found in the Fissure of Woe. While most of that realm is caught in the conflict between Balthazar and Menzies, the Wailing Lord remains neutral, allowing both sides to harvest the forest to fuel their respective war machines.
Recently, this has changed and the Wailing Lord's minions have been harassing Balthazar's harvest teams. Sending him a message to remind him of his neutrality is part of the quest The Wailing Lord.
Quests Given
Quests Involved In
Location
Notes
Community content is available under
CC-BY-NC-SA
unless otherwise noted.