This article or section is related to the sequel to the original Guild Wars and is based on pre-release information. Since the game is not yet available, this information is subject to change.

Please respect these policies: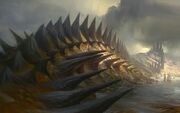 The "Water Dragon" is the name of a colossal creature or object whose concept art was found in the fansite kit. It is suspected to be one of the sleeping Ancient Dragons along with Primordus who will awaken in Guild Wars 2.
The "Water Dragon" is commonly believed to be the same entity as the enormous spiked spine protruding out of the ground in the center of the lake in Grothmar Wardowns and Dalada Uplands surrounded by skales. Due to its location, it is further commonly speculated to be the Ancient Dragon that will settle in Ascalon. However, this does not seem to be fully consistent with the passage "erupted from the northern mountains" as told in "The Movement of the World".
Community content is available under
CC-BY-NC-SA
unless otherwise noted.