Wekekuda
Classification
Dialogue
"You there! I suppose Peyema and Shosa sent you? Did they tell you we're making fireworks? No? Blast! Gone and blown the surprise, have I? Well, bother. Don't tell the boys. In any case, I need to finish my part getting some Diamond Djinn Essence. Now that I've told you everything, I don't suppose you'd be willing to help by collecting my items: 5 Diamond Djinn Essences? I've got some things here that might tempt you to say yes:"
Collector Items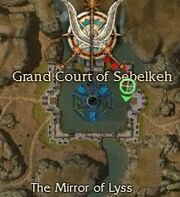 Wekekuda
Location: The Mirror of Lyss, just outside Grand Court of Sebelkeh to the southeast
Collecting: 5 Diamond Djinn Essences
Community content is available under
CC-BY-NC-SA
unless otherwise noted.