Wilderness of Bahdza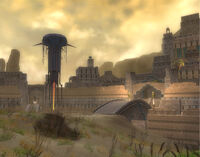 Basic Info
Neighbor(s)
Resplendent Makuun, Dzagonur Bastion (location),
Map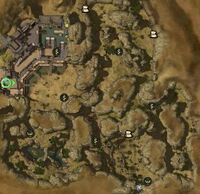 (click to enlarge)
General Information
The Wilderness of Bahdza is an explorable area in the far northeast of Vabbi, under the control of Prince Ahmtur the Mighty. It is said that Ahmtur made his fortune by cutting paths through the monsters and tribes that inhabit this area, but it is so out of the way that it is unclear who he trades with. Some maps show an area known as Dzanla even farther to the Northeast, but it cannot be acessed ingame. The wilderness itsself is a landscape of sheer valleys between rocky mesas, as is much of Vabbi. There is a large open area in the Northwest, watched over by the Citadel of Dzagon.
Exits / Neighbour Areas
Blessings / Shrines
NPCs
Various
Animals
Monsters
Bosses
Notes
Vanquisher Title: 163-176 foes. Varies if the following quest has been completed: Population Control. This is a relatively easy zone that, for optimum bounty efficiency, should be cleared counterclockwise. The only dangerous boss is Korrub, Flame of Dreams. Beware also the potential trap by Moteh Thundershooter: another harpy group is nearby, and the two groups together will probably cause even a strong party to wipe.
---
Community content is available under
CC-BY-NC-SA
unless otherwise noted.