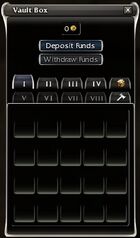 General
Xunlai Storage Panes each add an additional 20 slots of storage space to your Xunlai Chest. These panes can be used by any character on your account that has access to your storage chest.
Notes
You can purchase up to four (4) additional panes of storage from the In-Game store and the NCsoft Store.
You can also get a free additional pane during the Free Xunlai Storage Pane promotion if ordered between 12:00AM PDT on April 23, 2009 and 11:59 PM PDT on June 30, 2009.
If you have multiple Guild Wars accounts on your NCSoft master account, and you upgrade one of your Guild Wars accounts, you must log out of your NCSoft master account and then log back in before you can use the free coupon code on an additional account.
Community content is available under
CC-BY-NC-SA
unless otherwise noted.