Xuwei Diyi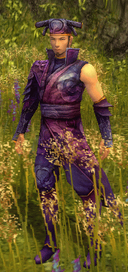 Classification
Dialogue
"I have heard rumors of a spreading plague that affects both man and beast. If this is true, perhaps I can help. You see, I specialize in healing animals. If you can bring me the hides of some of these Afflicted beasts, I might be able to concoct a cure. If you bring me 4 Animal Hides, I will give you this in return:"
Collector Items
Xuwei Diyi
Location: South of Kinya Province, next to the Resurrection Shrine near the portal to Panjiang Peninsula.
Collecting: 4 Animal Hides
Community content is available under
CC-BY-NC-SA
unless otherwise noted.