Young Child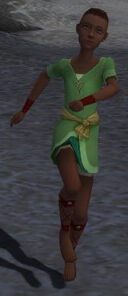 Classification
Young children are permanent NPCs in several locations on Istan, including Kamadan, Jewel of Istan and Champion's Dawn. In Kamadan, some of them can seen playing tag.
During Wintersday 2005 and 2006, young children appeared in the major cities of Tyria. When talked to, they complained about Grentches destroying their presents. When a present is given to a child (before a Grentch can destroy it), the child will give a reward back. In 2005 the reward was a Winter Gift; in 2006 it was a Candy Cane Shard. Giving gifts to named children had the same effect, with the exception of Scrappy Jhim in the 2006 event who would always give a Winter Gift instead of a Candy Cane Shard.
Location
See also
Community content is available under
CC-BY-NC-SA
unless otherwise noted.