Z'him Monns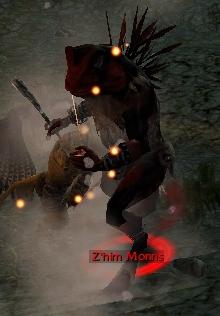 Classification
Description
Z'him Monns is the Boss-like foe at the end of Bogroot Growths when the Tekks's War quest is active.
Location
Skills used
Items dropped
Notes
Among his skills Spirit Rift is the most dangerous, capabable of wiping players who are not paying attention to their surroundings.
Having a Mesmer Hero (Gwen or Norgu) or a great anti-caster build such as a Broad Head Arrow Ranger will make this fight significantly easier.
Trivia
This boss's name is a reference to Simmons from the Red vs Blue Halo Machinima.
Community content is available under
CC-BY-NC-SA
unless otherwise noted.